4 slow cooker recipes even the kids will love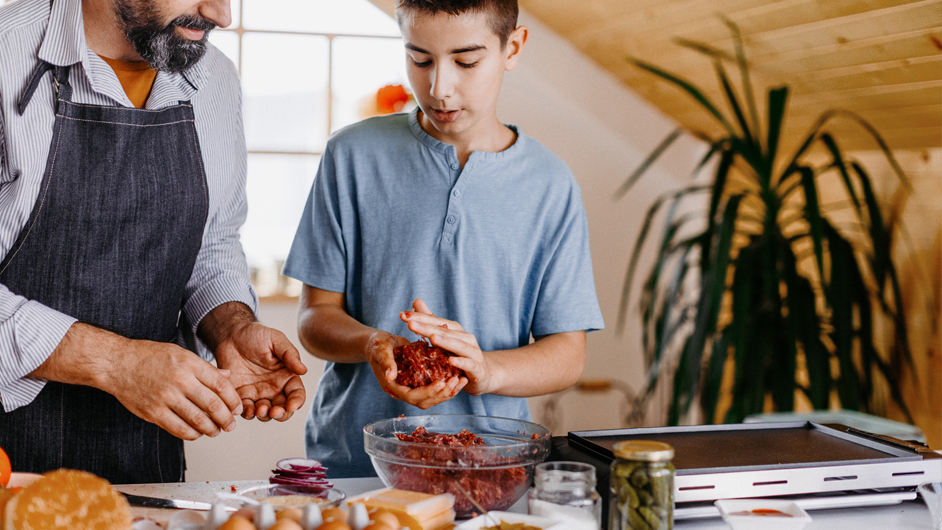 There's truly no better kitchen companion for winter than a slow cooker. You just throw all your ingredients in this handy gadget, and it basically cooks your meals for you! Not only does that mean it's ready to serve by dinner time, but you're greeted by the tantalising aroma of your meal when you walk through your front door. Plus, it can be a great way to save money by cooking in bulk!

From curries to pastas, there are many comfort food winter recipes you can make in a slow cooker. The only downside? If you have kids, they might not always be on board with all of your slow-cooked creations. They may find some slow cooker recipes to be too rich, hearty or spicy.

The good news is, there are plenty of kid-friendly slow cooker recipes the entire family will get on board with. Not only will they happily finish their bowl, but they'll also likely come back asking for seconds, too!

Read on for 4 slow cooker recipes even the kids will love.

1. Slow-cooked meatballs
Meatballs are one of the most versatile things you can make in the slow cooker. You can serve them with some veggies, stir them into a pasta dish or casserole or even put them on a toastie on those lazy nights. Not only that, but they're extremely easy to sneak some vegetables like shredded carrot and zucchini into dinner. The kids will never suspect a thing!

Whip them up by either buying premade meatballs from the grocery store or butcher, or rolling your own with mince. You may also choose to roll them in a mixture of egg, breadcrumbs and parmesan for a little more flavour if you're making your own. Combine them in the slow cooker with chopped tomatoes, puree, stock, garlic, and herbs. You can either cook them on low for 6-7 hours, or high for 3-4 hours depending on how much time you have available.

2. Slow-cooked tacos
Tacos are a crowd-pleasing Mexican classic all year round. While they're already quick and simple to make, did you know you can even easier with a slow cooker? You can go for a classic feel by cooking beef mince with Mexican spices and sauces. But, to elevate it with a more gourmet feel that the kids will still love, why not try it with pulled beef? It's a great way to use some cheaper cuts of beef like chuck or brisket. The pieces will pull apart once cooked in the slow cooker, resulting in deliciously tender strands of meat.

To make it, take your cut of beef and leave it out of the fridge to soften for at least 15 minutes. Then, roll both sides in a mixture of Mexican spices like paprika and cayenne. For a milder alternative, you can try sea salt, cumin and garlic powder. Then, put the meat in the slow cooker with beef stock and, if you wish, a tomato-based sauce for extra flavour. Cook on high for 3-4 hours, or low for 6-8 hours. Pull apart the pieces with a fork, then you're ready to serve them on crisp or soft tacos with toppings like cheese, tomato and avocado!

3. Slow-cooked lasagne
While lasagne is always a winning dinner dish, it can sometimes be slightly time-consuming and involved. Who wants to hang around the kitchen taking it in and out of the oven, when you could be spending time with the family instead?

To make it, add a layer of your usual lasagne ingredients like beef mince, pasta sauce, oregano and any other herbs. You may also choose to add beef stock and red wine for more flavour. Then, cover with a layer of lasagne sheets, breaking them to fit if necessary. Spread cream over the top of that. Keep adding layers until you reach the desired amount or run out of ingredients. Then, sprinkle cheese over the top. Cook on low for 3-4 hours, or until the lasagne sheets are tender.

4. Slow-cooked pulled pork sliders
Sliders are always a fun choice for the kids. They're just like burgers, only kid-sized! You can use your slow cooker to cook the filling while you're at work. That way all you need to do is layer your toppings onto bread rolls and you're ready to serve!

The pulled pork is made in a similar way to the pulled beef from the tacos recipe, but with a pork shoulder as the base. Instead of the Mexican spices, you can have a little fun with seasonings depending on what feel you're going for. For an Asian-inspired twist, add a sauce mixture of hoisin, soy sauce, honey, ginger, and garlic. Or, for a more smoky barbeque taste, try a mix of BBQ sauce, brown sugar, apple cider and vinegar.

Once the meat is done, you can get the kids involved in the kitchen by helping them prepare the sliders with your toppings of choice — such as mustard, coleslaw and cheese.

With these family-friendly slow cooker recipes at the ready, your slow cooker is sure to become your best friend this winter!